Myanmar Economy | Manufacturing in Myanmar
Myanmar's manufacturing sector, which has traditionally been dominated by the textile industry, is in the process of recovering from the decimating effect of international sanctions.
It is estimated that in 2003 Myanmar was home to between 300 – 400 textile factories.  The apparel industry accounted for 85% of the nation's exports.  In 2002, the US imported approximately $356.4 million of clothing and other goods from Myanmar.  Over the first three years of sanctions Myanmar's exports declined by approximately 60%.  Exports to the U.S. fell to zero.  According to the Myanmar Garment Manufacturers Association current output is close to pre-sanctions levels. Japan and Korea are now Myanmar's key export markets.
To date Myanmar has failed to attract more sophisticated manufactures. However, in a recent announcement Nissan Motor Co Ltd and Malaysia's Tan Chong Motor Holdings Bhd said they will jointly produce several thousand small passenger cars and pickup trucks in Yangon. Vehicles will be assembled rather than manufactured, but the proposed project has nonetheless been warmly received as is a welcome fillip for Myanmar's transitioning manufacturing sector.  Similarly Teijin Frontier Co. part of the Teijin Group's (Teijin) fiber-products converting company has announced that it will establish Teijin Frontier Myanmar Co., Ltd. The Myanmar based entity will not be involved in manufacturing but Teijin's entry into Myanmar bodes well for the future.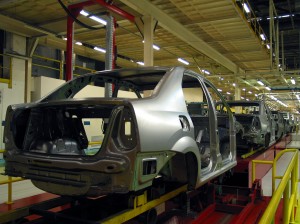 Cost of Labour in Myanmar
The apparel industry in Asia has shown itself to be highly sensitive to labour costs increases. Many garment manufacturers have relocated from China where wages have been increasing steadily for over a decade.  One of Myanmar's chief advantages is that its labour costs remain extremely competitive, and in particular are significantly lower than labour costs in Cambodia and Vietnam, both of which have large garment manufacturing sectors.  Wage costs in Myanmar can be as low as approximately USD$64 per month. In Thailand, the monthly wage for a factory worker is approximately USD$358, in Vietnam approximately USD$150, and in Cambodia approximately USD$88.
Myanmar's piece meal employment legislation is in the process of being updated and consolidated.  Workers are expected to be granted more statutory rights in relation to both their working conditions and the minimum wage. As part of the reform process the government introduced a new Labour Organisation Law in 2012, which among other things relaxed controls on the rights of labour to unionise.  Strikes are becoming more popular as is the movement of labour from factory to factory. In June 2013 the International Labour Organization lifted all restrictions on trade and investment in the country.
Myanmar also possesses a demographic advantage in that it has a large working-age population and a significant number of semi-skilled workers. The World Bank estimates that approximately 68% of Myanmar's present population are between the ages 15 – 65. By way of comparison Cambodia workforce is only quarter that of Myanmar's and 64% of its population are aged 15 – 65.
Investment Incentives and Special Economic Zones
The government of Myanmar is actively pursuing foreign investment. Measures introduced to date include the FIL and the Investment Rules.  The government is also in the process of establishing a number of special economic zones (SEZ's).  Investors who invest and operate businesses located in SEZ's can avail of certain privileges, described in more detail here.
Manufacturers who establish operations in SEZ's typically benefit from certain other advantages from economies of scale, to access to port/airport facilities and controlled rents.  The Hong Kong Apparel Society and the Hong Kong Trade Development Council have proposed establishing a special Hong Kong Industrial Zone that will allow 50-80 manufacturers to set up within a two to three-year period.
Myanmar Infrastructure | Myanmar property prices 
The biggest challenge facing manufacturing in Myanmar is its inadequate and underdeveloped infrastructure. Myanmar's electricity grid remains prone to shortages and black-outs. Factories, especially those seeking to operate on a twenty-four hour basis, need to maintain back-up generators, which are often expensive to run and unsuitable for large scale manufacturing.  Additionally sanctions have resulted in Myanmar's capital stock becoming outdated.  Manufacturers may find existing plants and facilities in Myanmar are inadequate for their production needs.
The high price of property is affecting the recovery of manufacturing in Myanmar.  The price of residential, commercial and manufacturing space has reached prohibitive levels.  Manufacturers are increasingly settling for working within existing property structures rather than develop green-field projects. The development of modern manufactruring facilities is therefore vital to the long term improvement in the quality in manufacturing in Myanmar.