MIC Approvals
The MIL provides for three forms of MIC approval:-
Investments requiring an MIC Permit
Investments requiring MIC Endorsement
No Approval (the investment is regulated by the MIL, but the investor does not wish to apply for the tax incentives or other benefits available to investors for under the MIL)

MIC Permits
Pursuant to the MIL, MIC Permits are required in respect to projects which:-
are essential to the Government's national development strategy;
are large and capital intensive;
are likely to have a significant impact on the environment and/or local communities;
involve the use of state-owned land and buildings;
involve activities designated by the Government to require an MIC Permit
are conducted across the national border or across states or regions in Myanmar
involve investment of US$100M or above.
involve an investment of US$20M or above and is being carried out in the form of a foreign Myanmar joint venture or a concession agreement with the Government.
involve investment of US$20M or above and is any of the following sectors, technology (information, communication, medical, bio or similar technologies), transport infrastructure, energy infrastructure, building urban development infrastructure, new cities, extractive/natural resource industries and media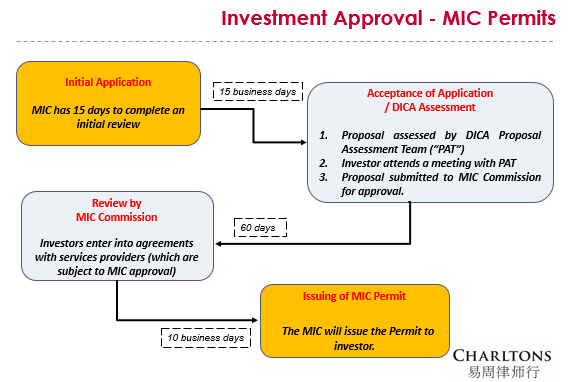 MIC Endorsement
The MIL introduced a new class of foreign investment approval – 'MIC Endorsements', which can be obtained via a new stream-lined approval process.
Any investor who is not required to obtain an MIC Permit (i.e. the proposed investment does not fall into any of the categories on investment requiring an MIC Permit set out in 1 – 9 above) but who wishes to avail of the investment incentives available under the MIL (such as the right to enter into long term leases or benefit from tax incentives) may apply to the MIC for an MIC Endorsement.
MIC Endorsement applications are made to the MIC's head office in Yangon. If the proposed investment is less than US$5 million, then the application can be made to a state or regional office of the MIC.
MIC Endorsement Application Procedure
Prepare application documents while liaising with MIC officer
If the MIC officer is satisfied with the application documents, prepare 10 sets for 'initial screening' by the MIC
Submit company registration application to the DICA
The MIC will decide whether or not to proceed with the application following the initial screening, and pass the application to the relevant Government Ministries or other authorities for approval, where necessary;
The investor may be asked to amend the application, however is not necessary for the investor to meet with representatives of the MIC
If the MIC is satisfied with the application it will issue an MIC Endorsement
DICA issues company incorporation certificate
According to the MIC's official timeline, MIC endorsement applications should take no longer than 55 working days to process.
The MIC Endorsement application fee is Kyats 100,000-200,000 (US$100 – 200) depending on the nature of the project. Investments of US$300,000 or more can apply to avail of the MIL tax incentives under the MIL.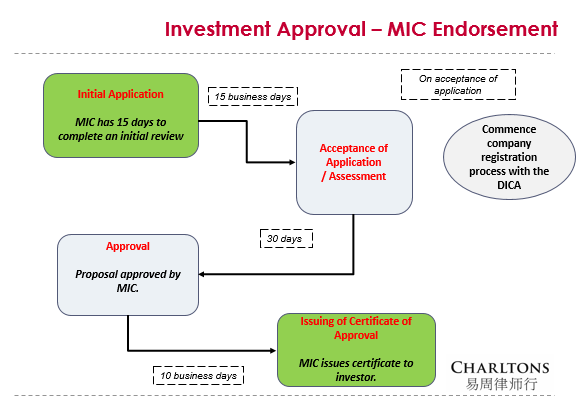 | | | |
| --- | --- | --- |
| Form (1) | Investment Screening Form | |
| Form (2) | Proposal Form | |
| Form (3) | Myanmar Investment Commission Permit | |
| Form (4-A) | Endorsement Application Form (Myanmar Investment Commission) | |
| Form (4-B) | Endorsement Application Form (Region/State Investment Committee) | |
| Form (5-A) | Myanmar Investment Commission Endorsement | |
| Form (5-B) | Region/State Investment Committee Endorsement | |
| Form (6) | Tax Incentive Application | |
| Form (7-A) | Application form for Land Rights Authorization (Myanmar Investment Commission) | |
| Form (7-B) | Application form for Land Rights Authorization (Region/State Investment Committee) | |
| Form (8) | Application form for transfer of Share or Business | |
| Form (9) | Notify letter for carrying out the Restricted Investment Business | |
| Form (10) | Quarterly Performance Report | |
| Form (11) | Annual Performance Report | |
| Form (12-A) | Application of work permit for the foreign staff and management expert to appoint at the investment (Myanmar Investment Commission) | |
| Form (12-B) | Application of work permit for the foreign staff and management expert to appoint at the investment (Region/State Investment Committee) | |
| Form (13) | Application for repatriation of funds | |
| Form (14) | Report for the commencement of the commercial operation date for the manufacturing or service | |
| Form (15) | Letter of Notification for Sub-lease Land or Buildings | |
| Form (16) | Form for the investor to submit a complaint | |