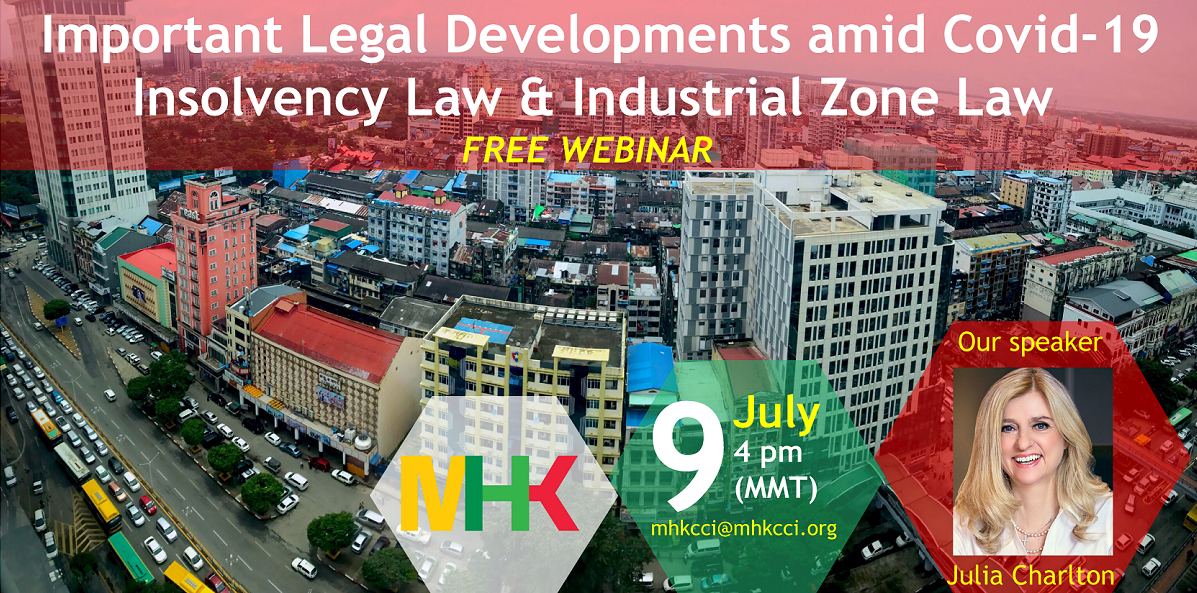 As an update to the recent MHKCCI webinar on COVID-19 Pandemics' Impact on Labour-Intensive Industry in Myanmar, Ms. Julia Charlton will provide a brief update on the current situation of labour-intensive industries followed by a discussion of the new Insolvency Law and Industrial Zone Law.
The new Insolvency Law of Myanmar, which applies to both individuals and corporates registered in Myanmar, came into force in February 2020 and brings a modern insolvency regime for investors and entrepreneurs. As industrial zones have played an important role in Myanmar's recent economic development, the new Industrial Zone Law, enacted in May 2020, provides provisions on the establishment process for future industrial zones and addresses the issues of land speculation and environmental governance.
Please join us to find out more about the laws and the situation of labour-intensive industry in Myanmar.
When: Thursday, 9 July 2020, 4 pm to 5 pm (MMT)
Where: Webinar (Zoom)
Registration: mhkcci@mhkcci.org (Meeting link will be sent after registration completion.)
About the speaker:
Ms. Julia Charlton, Managing Partner of Charltons Law Firm
Julia, LL.B (1st class Honours), A.K.C (Kings College, London) was admitted as a solicitor in England & Wales in 1985 and has practiced as a solicitor in Hong Kong since 1987. She was named a "Leading Lawyer" by Asia Law & Practice for the years 2002-2018.
She was a long-standing member of the Listing Committee of The Stock Exchange of Hong Kong from 2012 to 2018. Among other office positions she holds, Julia is currently a member of the Takeovers Panel and the Takeovers Appeals Panel of the Hong Kong SFC.
Julia's firm has had an office in Yangon since 2013 and Julia has advised on restructurings, fundraising and M&A in Myanmar across a range of industries. Julia is a Mandarin speaker and has extensive experience in China and Myanmar work in the field of corporate finance, including securities, derivatives and funds, private equity investment advising European, the US and Hong Kong-based funds on investments in a range of sectors.
This newsletter is for information purposes only. Its contents do not constitute legal advice and it should not be regarded as a substitute for detailed advice in individual cases.
Transmission of this information is not intended to create and receipt does not constitute a lawyer-client relationship between Charltons and the user or browser.
Charltons is not responsible for any third party content which can be accessed through the website.
If you do not wish to receive this newsletter please let us know by emailing us at unsubscribe@charltonslaw.com