Recording of the talk is available
here
.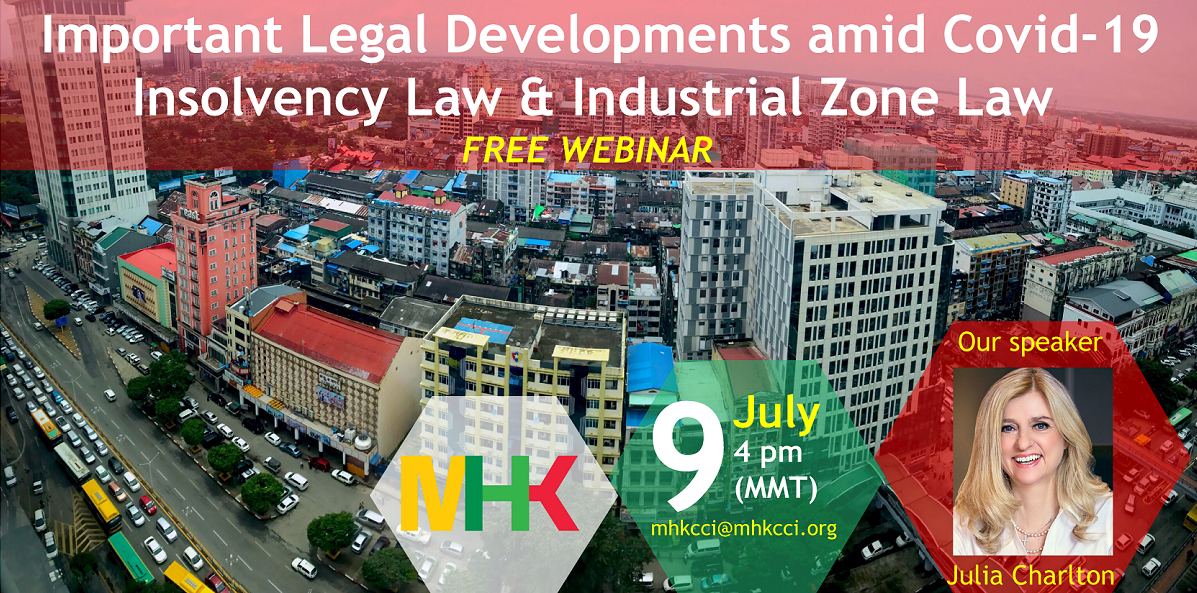 On 9 July 2020, Julia Charlton spoke at a webinar organised by the
Myanmar-Hong Kong Chamber of Commerce
and Industry on important legal developments in Myanmar amid COVID-19. Julia provided an update on how labour-intensive industries are coping, focusing on factory reopenings and implications for employees, in addition to the extent of government relief measures and the general position in terms of investment in Myanmar, cross border and regional trade, e-commerce and external financial support and the business environment. Julia then went on to discuss two major regulatory reforms aimed at enhancing the investment environment: the implementation of Myanmar's new Insolvency law and the new Industrial Zone Law.
This followed on from the Chamber's recent webinar at which Julia spoke on the impact of COVID-19 on labour-intensive industries in Myanmar.
Overview of Myanmar's Economy
According to the World Bank's latest report in June 2020 on the impact of the pandemic on developing economies in East Asia and the Pacific, Myanmar has been hit hard with economic growth for the 2019/2020 financial year expected to show a sharp decline 0.5%. This is due primarily to the country's exposure to the global slowdown triggered by the pandemic, and reduced growth in China in particular, since China accounts for 33% of Myanmar's exports. Restrictions on travel and cross border trade have impacted Myanmar's tourism industry and related services and its agricultural exports which make up half of Myanmar's total exports or 4% of GDP. Supply chains have been also been disrupted, particularly in the garment industry which accounts for 13% of the country's exports.
The labour market has also been affected. Around 78% of Myanmar's rural work force is employed in agriculture while around 27% of the urban work force works in tourism and related services, areas which have been significantly affected by COVID-19
However, prospects are less bleak than in many developed economies and the World Bank is expecting Myanmar's economic growth to recover to 7.2% in 2020-2021 and to return to trend in the medium term supported by investment in infrastructure, power and property markets, strong exports and resilient domestic consumption which accounts for 50% of GDP. In fact, the World Bank predict that Myanmar will in the 10% of world economies not to go into recession.
Other positives worth highlighting include:
travel infrastructure projects which are in progress, facilitated by a new Project Bank; and
the boost to the service sector provided by the licensing of foreign insurers to operate in Myanmar and allowing foreign banks to provide wholesale and retail lending in the country.
Nevertheless, as elsewhere, the impact of COVID-19 is expected to disproportionately hurt the poor. 68% of Myanmar's poor work in agriculture and are vulnerable given reduced output and prices due to declines in exports to China.
Household incomes are also likely to be affected by redundancies in the manufacturing sector which employs 500,000 people. High inflation (predicted to moderate to 7.5% in 2019/2020) and potentially higher food prices are also likely to disproportionately hit the poorest sectors of the population.
Update on Labour-Intensive Industries in Myanmar amid COVID-19

Myanmar's New Insolvency Law Myanmar has recently modernised its insolvency regime with the implementation of a unified Insolvency Law 2020 which covers personal and corporate insolvency and cross-border insolvency. The new law came into effect on 25 March 2020 except for Part X on cross-border insolvency which will come into effect on a date to be notified. The Insolvency Rules 2020 supplementing the new law were published on 28 April 2020. The new law repeals the Yangon Insolvency Act 1909 and the Myanmar Insolvency Act 1920 and also overrides the provisions on company winding-up included in the Myanmar Companies Law 2017.

Developed in partnership with the Asian Development Bank (ADB), key aspects of the new Insolvency Law are:

the introduction of a corporate rescue and rehabilitation process as an alternative to liquidation;
provisions allowing individuals facing insolvency to enter into voluntary arrangements with their creditors, providing for part of the debt to be written off or for payments over a fixed period, usually with no interest; and
although not yet in force, the adoption of the United Nations Commission on International Trade Law's (UNCITRAL) Model Law on cross-border insolvency for distressed companies that have creditors or assets in more than one jurisdiction. This latter development is likely to be of particular interest to foreign investors in Myanmar.

Given the financial pressures facing companies and small and medium-sized enterprises, in particular, in the wake of the COVID-19 pandemic, the new Insolvency Law is likely to be a welcome development.

Corporate Rescue and Rehabilitation MechanismThe new law's corporate rescue and rehabilitation mechanism has been created to cater for Myanmar's developing economy. It seeks to offer companies facing financial distress an alternative to liquidation and aims to safeguard companies existence as a going concern, or if this cannot be achieved, to rescue as much of their businesses as possible.

The law introduces a 2-stage process. The first is the "rescue stage" during which an insolvency practitioner is appointed as the rehabilitation manager to manage the company and explore the options for the company's rehabilitation with the company's creditors. The rehabilitation manager is responsible for preparing the rehabilitation plan to submit for the creditors' approval. In formulating the plan, the rehabilitation manager must assess its viability and the likely return to creditors and ensure that the company's associates are not given an advantage over the company's other creditors.

Protections included in the new Insolvency Law for companies subject to a corporate rescue are that:

security cannot be enforced against the company without leave of the Court or the rehabilitation manager's written consent; and
no proceedings can be brought or continued against the company or its guarantor except with leave of the court.

A creditors' voluntary winding-up will be implemented if creditors do not agree to implement a rehabilitation plan or terminate a rehabilitation plan, or if a plan is not executed within a specified time frame. The company's creditors or a court may also resolve to wind up the company.

MSME Enterprise Rescue and RehabilitationThe new insolvency regime also creates a separate procedure for the rescue and rehabilitation for micro and small to medium enterprises (MSMEs) which are the backbone of the Myanmar economy. Both incorporated and unincorporated MSMEs are eligible for the MSME Rescue and Rehabilitation Plan if their business debts are below MMK 10 million in the case of incorporated MSMEs or below MMK 1 million for unincorporated MSMEs.

The MSME rescue and rehabilitation process is similar to the corporate rescue and rehabilitation process in that it comprises a rescue stage and enterprise plan stage, although the process is simpler and less costly. The MSME rescue package also has the same aims and provides the same protections as the corporate rescue process.

However there are a number of fundamental differences between two, principally that:

The MSME rescue procedure involves the appointment of a Rehabilitation Adviser – rather than a Rehabilitation Manager. The role of the rehabilitation adviser is to advise the MSME on the business' rescue. Unlike a Rehabilitation Manager, the Rehabilitation Adviser to an MSME does not manage the business or have control of its assets.
Whereas the rehabilitation plan for corporate rescue and rehabilitation is prepared by the Rehabilitation Manager or another interested party, in the case of MSMEs, it will be prepared by the MSME or by the rehabilitation adviser with the MSME's consent; and

During the rescue stage for corporates, all directors' powers cease unless the Rehabilitation Manager sanctions their exercise. In the case of MSMEs, the powers of the directors, proprietors or partners continue.

Personal InsolvencyThe new law creates a clearer process for bankruptcy proceedings. A creditor owed MMK 1 million or more can issue a bankruptcy notice against an individual. If the debt is not repaid within 21 days, the creditor can present a petition for bankruptcy to the courts.
Cross-border insolvencyPart X of the new Insolvency Law adopts the principles of the UNCITRAL Model Law on cross-border insolvency which streamlines the process for representatives in offshore insolvency proceedings to be recognised by, and obtain relief from, the Myanmar courts.

The significance of the adoption of the Model Law is that it should make Myanmar more attractive to foreign investors since it will strengthen cooperation between courts on cross border insolvency matters. In particular, the value of debtors' assets should be afforded protection.

Looking to the Future of Insolvency Law in Myanmar

The new Insolvency Law is a significant step for Myanmar in enhancing its attractiveness to international investors, developing the market economy and discouraging the use of informal channels for debt recovery.

It is hoped that the rescue and rehabilitation process will enable Myanmar to raise its ranking on the World Bank's Ease of Doing Business report, one of the criteria for which is the ease of resolving insolvency in terms of the time, cost, outcome and recovery rate for commercial insolvency and the strength of the legal framework. In the 2020 Report, Myanmar ranked 165th out of 190, rising 6 places from 2019.

Further focus on capacity building is likely to be necessary given the lack of experienced insolvency practitioners, and the Government's commitment to continued commercial law reform.

Comparison: India and Pakistan

Prior to the pandemic, India was already seeing a surge in insolvency cases (increasing by 30.3% between October to December 2019 by 123% for 2019 as a whole, with a total of 3,312 companies admitted for insolvency resolution). Of those, 1,343 were manufacturing companies, which is particularly interesting given that the government has been offering more policy support to the sector.

In light of the impacts of COVID, and in addition to economic measures announced by the Ministry of Finance to support Indian businesses, the Insolvency and Bankruptcy (Amendment) Ordinance was promulgated on 5 June 2020, which introduced a number of amendments to the Insolvency and Bankruptcy Code 2016 (the IBC), which took immediate effect in order to provide some breathing space for Indian businesses hit by the pandemic. Notable amendments include:

Restriction on the filing of any application for initiation of the corporate insolvency resolution process of a corporate debtor for any default after 25 March 2020 for a period of 6 months (or longer subject to further notifications); and
Insertion of a non-obstante clause to give protection to directors of a corporate debtor.

In terms of the implications of the amendments, it would seem that the out-of-court restructuring regime under the Prudential Framework for Resolution of Stressed Assets (2019) will come into focus, and where restructuring is unfeasible for companies, the lenders would have to rely on applicable recovery and enforcement tools. The winding-up procedure under the Companies Act and Voluntary liquidation under the IBC continues to be available.

Pakistan:

Turning now to Pakistan. As according to the Pakistan Economic survey, Pakistan's debt is set to rise to 88% of GDP and I'll share a couple of on the ground examples of difficulties faced.

For example, Pakistan International Airlines stated that losses and debt have become too much for the company to handle alone (with accumulated losses of $3 billion US dollars at the end of last year) and suggested to that the Government should include a debt-to-equity swap and long-term bond issue.

Meanwhile, the University of Engineering and Technology went bankrupt in early July with the University Vice Chancellor stating that they informed the Government numerous times of the condition of the University's finances but nothing was done. This follows the Pakistan Government's move to cut higher education funding by 19% in the 2019/2020 budget, which in the words of a Pakistani academic is indicative of the funding for higher education going from "boom (in 2002-2008) to bust".[41]

Industrial Zone Law
---
[1] https://www.irrawaddy.com/specials/myanmar-covid-19/myanmar-back-work-no-local-covid-19-transmissions-two-weeks.html
[2] https://www.fibre2fashion.com/news/textile-news/myanmar-s-suu-kyi-orders-monitoring-of-factories-for-virus-267157-newsdetails.htm
[3] https://www.mmtimes.com/news/magwe-govt-allows-more-1000-factories-reopen.html
[4] https://www.irrawaddy.com/business/business-roundup/irrawaddy-business-roundup-22.html
[6] Trading Economics Data, 2020. At: https://tradingeconomics.com/myanmar/manufacturing-pmi
[7] https://frontiermyanmar.net/en/factory-workers-suffer-blame-and-pain-in-myanmars-covid-19-response
[8] https://frontiermyanmar.net/en/factory-workers-suffer-blame-and-pain-in-myanmars-covid-19-response
[10] https://frontiermyanmar.net/en/factory-workers-suffer-blame-and-pain-in-myanmars-covid-19-response
[11] https://frontiermyanmar.net/en/factory-workers-suffer-blame-and-pain-in-myanmars-covid-19-response
[12] https://www.irrawaddy.com/specials/myanmar-covid-19/two-thirds-myanmar-businesses-struggle-survive-pandemic-survey%e2%80%a8.html
[13] https://www.irrawaddy.com/specials/myanmar-covid-19/two-thirds-myanmar-businesses-struggle-survive-pandemic-survey%e2%80%a8.html
[14] https://www.irrawaddy.com/specials/myanmar-covid-19/two-thirds-myanmar-businesses-struggle-survive-pandemic-survey%e2%80%a8.html
[15] https://www.mmtimes.com/news/investments-yangon-continue-despite-pandemic.html
[16] https://www.mmtimes.com/news/investor-interest-myanmar-garment-sector-still-strong-despite-lower-exports.html
[17] https://www.mmtimes.com/news/hong-kong-top-fdi-source-myanmar-fiscal-year.html
[18] https://www.irrawaddy.com/business/business-roundup/irrawaddy-business-roundup-22.html
[19] Wilson Centre. The China-Myanmar Economic Corridor and China's Determination to See It Through https://www.wilsoncenter.org/blog-post/china-myanmar-economic-corridor-and-chinas-determination-see-it-through
[20] https://thediplomat.com/2020/05/is-china-deploying-covid-19-diplomacy-to-speed-bri-projects-in-myanmar/
[21] https://www.irrawaddy.com/business/myanmar-covid-19-recovery-plan-wont-favor-chinas-bri-projects-official-says.html
[22] https://www.tilleke.com/resources/myanmar-announces-covid-19-tax-exemptions
[23] https://www.irrawaddy.com/business/business-roundup/irrawaddy-business-roundup-24.html
[24] https://www.irrawaddy.com/business/business-roundup/irrawaddy-business-roundup-21.html
[25] https://www.irrawaddy.com/business/business-roundup/irrawaddy-business-roundup-21.html
[26] http://www.jvmyanmar.com/wp-content/uploads/2020/05/WHM_MarketValuation-Myanmar-May-2020.pdf
[27] https://www.mmtimes.com/news/myanmar-commits-facilitating-trade-within-asean.html
[28] https://www.mmtimes.com/news/three-asean-countries-offer-buy-myanmar-rice.html
[29] https://www.mmtimes.com/news/three-asean-countries-offer-buy-myanmar-rice.html
[30] https://www.mmtimes.com/news/three-asean-countries-offer-buy-myanmar-rice.html
[31] https://www.irrawaddy.com/business/business-roundup/irrawaddy-business-roundup-21.html
[32] IMF. 26 June 2020. "IMF Executive Board Approves US$356.5 million Disbursement to Myanmar to Address the COVID-19 Pandemic. https://www.imf.org/en/News/Articles/2020/06/26/pr20247-myanmar-imf-executive-board-approves-a-us-356-5m-disbursement-address-covid19
[33] https://www.irrawaddy.com/specials/myanmar-covid-19/myanmar-parliament-approves-700-million-imf-loan-covid-19-spending.html
[34] https://www.irrawaddy.com/specials/myanmar-covid-19/myanmar-parliament-approves-700-million-imf-loan-covid-19-spending.html
[35] https://www.irrawaddy.com/business/business-roundup/irrawaddy-business-roundup-20.html
[36] https://www.irrawaddy.com/business/business-roundup/irrawaddy-business-roundup-22.html
[37] https://www.irrawaddy.com/business/business-roundup/irrawaddy-business-roundup-22.html
[38] https://www.irrawaddy.com/business/business-roundup/irrawaddy-business-roundup-22.html
[39] https://www.irrawaddy.com/business/business-roundup/irrawaddy-business-roundup-21.html
[40] https://www.irrawaddy.com/news/burma/domestic-tourism-reopens-myanmar-businesses-struggle-get-back-feet.html
[41] https://www.timeshighereducation.com/news/pakistan-funding-cuts-disastrous-universities
[42] https://www.pwc.com/mm/en/publications/assets/myanmar-business-guide.pdf
[43] https://www.pwc.com/mm/en/publications/assets/myanmar-business-guide.pdf
[44] Myanmar 2020 Report.
[45] Myanmar 2020 Report.
[46] Myanmar 2020 Report.
[47] World Bank Report 2020 on East Asia and Pacific Economies amid Covid-19.
[48] https://www.pwc.com/mm/en/publications/assets/myanmar-business-guide.pdf
[49] Myanmar 2020 Report.
[50] Myanmar 2020 Report.
[51] Myanmar 2020 Report.
[52] https://www.ide.go.jp/library/English/Publish/Download/Brc/pdf/10_02.pdf
[53] Myanmar 2020 Report.
[54] Myanmar 2020 Report.
[55] Myanmar 2020 Report.
[56] Myanmar 2020 Report.
[57] http://www.xinhuanet.com/english/2019-09/25/c_138422195.htm
[58] Section 15 of the Industrial Zone Law
[59] Section 16 of the Industrial Zone Law
[60] Section 23 (b) of the Industrial Zone Law
[61] Section 23 (d) of the Industrial Zone Law
[62] Section 23 (g) of the Industrial Zone Law
[63] Section 23 (i) of the Industrial Zone Law
[64] Section 24 of the Industrial Zone Law
[65] Section 26 of the Industrial Zone Law
[66] Section 32 of the Industrial Zone Law
[67] Section 34 (b) of the Industrial Zone Law
[68] Section 46 of the Industrial Zone Law
[69] Myanmar 2020 Report.
[70] Myanmar 2020 Report.
[71] Myanmar 2020 Report.
[72] http://www.xinhuanet.com/english/2020-03/17/c_138886649.htm
[73] https://nation.com.pk/23-Mar-2020/pakistan-require-special-economic-policies-to-implement-sezs
[74] http://www.xinhuanet.com/english/2020-03/17/c_138886649.htm
Important Legal Developments amid COVID-19: New Insolvency Law and Industrial Zone Law
Overview of Myanmar's Economy
Update on Labour-intensive Industries in Myanmar amid COVID-19
Factory Reopenings
Employee Benefits
Loans
Investment
Cross Border and Regional Trade
External Financial Support
E-commerce
Business Environment and Tourism
Myanmar's New Insolvency Law
Corporate Rescue and Rehabilitation Mechanism
MSME Enterprise Rescue and Rehabilitation
Personal Insolvency
Cross-border Insolvency
Looking to the Future of Insolvency Law in Myanmar
Comparison: India and Pakistan
Industrial Zone Law
Overview of the Enactment of the Industrial Zone Law and the Industrial Sector in Myanmar
Development of Myanmar's Industrial Sector
The New Industrial Zone Law
Further Developments Relevant to the Industrial Sector
Comparison: Pakistan and India
This newsletter is for information purposes only. Its contents do not constitute legal advice and it should not be regarded as a substitute for detailed advice in individual cases.
Transmission of this information is not intended to create and receipt does not constitute a lawyer-client relationship between Charltons and the user or browser.
Charltons is not responsible for any third party content which can be accessed through the website.
If you do not wish to receive this newsletter please let us know by emailing us at unsubscribe@charltonslaw.com